Announcement
To apply for an O-A visa, the Health insurance policy must have coverage not less than 400,000 Thai Baht per policy year for Inpatient, and not less than 40,000 Thai Baht per policy year for outpatient. The coverage requirement above will be valid until 30th of September 2021.
Starting from the 1st of October 2021 the Royal Thai Embassy has introduced the following new requirements for the said visa O-A application stated that the applicant must have a health insurance for the duration of stay, with coverage of at least three million baht. The new certificate will start after the date. (This apply to new customers only)
For renewal customers the coverage will continue as usual untill approximately 1st of September 2022
Coverage with top Thai private hospital
No advance payment needed with our Thai Health Insurance's Card, acceptable with more than 300 Network Hospitals throughout Thailand.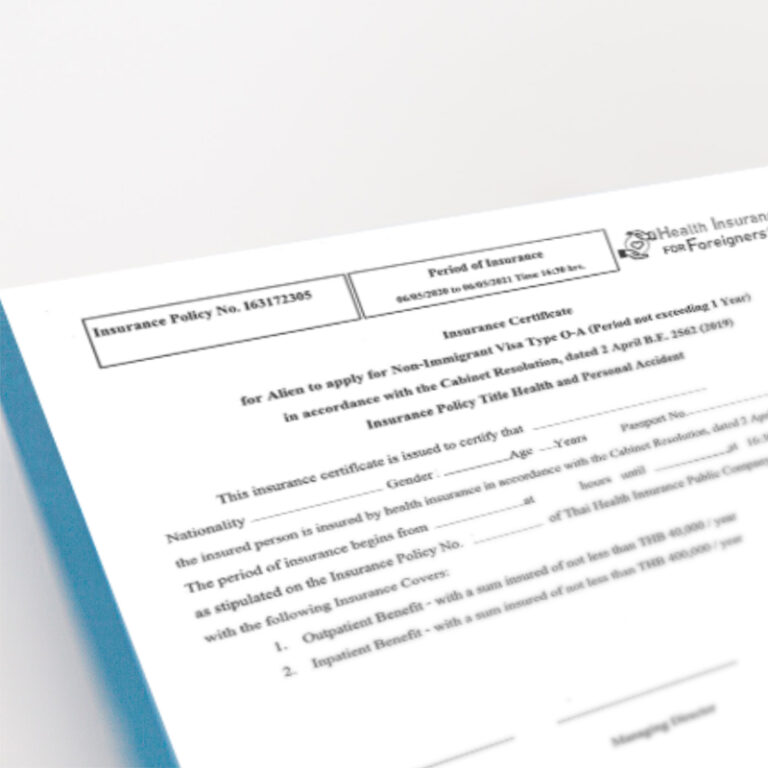 Certificate for VISA
To confirm your insurance, we issue Certificate which can be use to apply VISA type O-A, 1 year.
Worldwide Coverage
Our coverage also include worldwide coverage and Emergency Assistant by Allianz Global Assistance** (terms and conditions apply to Allianz Global Assistance)
| Coverage Plan | Excellency 3M | Excellency 5M |
| --- | --- | --- |
| Health Insurance Coverage Maximum Payable per Disability/Time/Year | 3,000,000 | 5,000,000 |
| In-patient Hospitalization (IPD) Coverage | | |
| | | |
| Room and Board, Including Nursing Care (Max. per disability/time) | 900,000 | 1,200,000 |
| - Normal Room (Max. per day, limit 60 days) | 15,000 | 20,000 |
| - ICU Room (Max. per day, limit 15 days) | 30,000 | 40,000 |
| - General Expenses (Max. per disability/time) | 150,000 | 200,000 |
| - Emergency OPD Treatment for Accident (Including in General Expenses) | 30,000 | 40,000 |
| Special Consultation Fee (Including in General Expenses) | 15,000 | 20,000 |
| - Ambulance Fee (Including in General Expenses) | 1,000 | 1,000 |
| Surgical Coverage | | |
| Surgeon's Operation Fee (Max. per disability/time, as per Actual Expenses) | 225,000 | 300,000 |
| - Surgical Consultation Fee (Including in Surgeon's Operation Fee) | 22,500 | 30,000 |
| Physician Care Coverage | | |
| Physician Care (Max. per disability/time) | 225,000 | 300,000 |
| - In-patient Physician Visit Fee (Max. per day, limit 60 days) | 3,750 | 5,000 |
| Major Medical Coverage | | |
| Maximum Payable per Disability/Time/Lifetime ( Pays 100 Percent of the Eligible Expenses in Excess of the Deductible ) | 1,500,000 | 3,000,000 |
| - Deductible | 150,000 | 200,000 |
| - Room and Board, Including Nursing Care (Max. per day, starts on 61st day) | | |
| Worldwide Emergency Assistant Coverage (By Allianz Globall Assistance) | | |
| - Emergency Medical Evacuation | | |
| - Medical Repatriation | USD 1,000,000 | USD 1,000,000 |
| - Repatriation of Mortal Remain | | |
| Personal Accident Coverage (PA 2) | | |
| - Accidental Death, Dismemberment, and Total Permanent Disability | 200,000 | 200,000 |
| Age (Years) | Excellency 3M | Excellency 5M |
| --- | --- | --- |
| 15 Days - 5 Years | 176,248 | 215,552 |
| 6 - 10 | 78,946 | 96,414 |
| 11 - 20 | 49,756 | 60,673 |
| 21 - 35 | 40,026 | 48,759 |
| 36 - 40 | 45,863 | 55,907 |
| 41 - 45 | 49,756 | 60,673 |
| 46 - 50 | 59,486 | 72,587 |
| 51 - 55 | 69,216 | 84,501 |
| 56 - 60 | 78,946 | 96,414 |
| 61 - 65 | 98,574 | 120,410 |
| *66 - 70 (Renew only) | 137,832 | 168,401 |
| *71 - 75 (Renew only) | 196,886 | 240,555 |
| *76 - 85 (Renew only) | 294,188 | 359,694 |